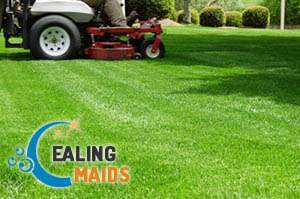 Grass fields need regular and thorough cutting to be shaped and thick enough. Our company offers reliable grass cutting services which can be used by the Ealing W5 residents during weekdays, bank holidays and weekends.
They are tailored according to the demands of the customer and can include a number of various gardening tasks. Our gardeners can offer you shaping of trees, shrubs and hedges, weed and pest removal, mulching, fertilising and other services.
You can count on them to ensure the presentable and nice state of your outdoor house and other property areas.
"We needed some help with our lawn mowing routine, because our mower broke, so I checked these guys website and booked a quote. We are very pleased with the quality they provided and I am wondering if repairing the broken mower makes sense considering the low price of these services." – Steve
Call us Now for a FREE QUOTE!
020 3475 5368
High-quality Grass Cutting Ealing
By using our services you save time, money and efforts and receive:
Well maintained lawn
Thick and healthy grass areas
Presentable garden and yard
Cleaned of the wastes property
Edged and shaped grass fields
We can offer you many different gardening services along with grass cutting to keep your estate, based in Ealing look good. Our landscapers and lawn specialists have plenty of experience in dealing with plants and yards.
They can reduce the height of your lawn to the proper size to encourage its growth, edge around paved, tarmac surfaces and other plants.
Gardening Services in Ealing
Basic Gardening

from £

45/h

Lawn Mowing

from £

45/h

Hedge Trimming

from £

45/h

Garden Cleaning + Jet Wash

from £

90/h

Jet Wash

from £

50/h

Tree Pruning

on request
Grass Cutting and Lawn Care W5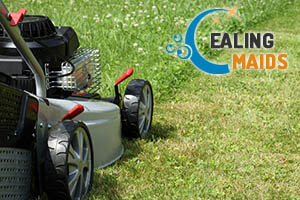 Using powerful lawn mowers, our gardeners can maintain your outdoor grass areas in shaped condition. They can carry out mulching, fertilising, aerating, pest removal and other services. Schedule your grass cutting for a preferred time and leave the hard work to the professionals in our company. They will do it faster, better and you won't have to pay a fortune for the service.
By hiring the professional gardeners who work in our agency you can ensure the well-tended condition of your plants and lawns. We offer regularly and upon request done grass cutting and other services in W5 London which are affordable and trustworthy.
They will save you hours of work in the garden and yard and ensure better results. Our gardeners remove the created wastes from the area and edge around flower beds, hedges, trees, patios and other garden features. Rely on them to enhance the condition of your home, hotel and other property's external areas.
->Back to home page<-